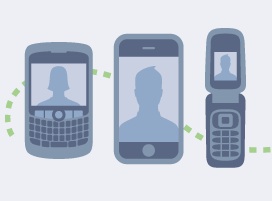 Por años, uno de los medios más populares para accesar Facbook es a través de teléfonos móviles. La compañia ha hecho esfuerzos para hacer esto cada vez más accesible, desde funciones SMS, aplicaciones basadas en la web o nativas para la mayoría de los smartphones. Hoy, la compañía a anunciado que ha llegado a 100 millones de usuarios de su platafoma que la accesan a través del móvil, subiendo de 65 millones en septiembre.
El crecimiento de Facebook ha crecido en más de 100 millones de usuarios en general desde su ultimo conteo, así que no es ninguna sorpresa. Pero el crecimiento en móviles está creciendo a una tasa bastante más acelerada. Tras su anuncio en septiembre de tener 65 millones en móvil, anunció que tenía un total de 300 millones de usuarios, lo que significa que un 21.7% de sus usuarios totales, están en la plataforma móvil. Ahora tienen 100 millones, de un total de 400 millones, lo que coloca el número ahora en 25%.
Facebook también denota que sus sitios móviles m.facebook.com y touch.facebook.com (optimizados para smartphones como el iPhone y aparatos como el iPod Touch) han sido rediseñados. Y que el sitio maneja mensajes de texto de 80 operadores en 32 países alrededor del mundo.
Facebook's post notes that the mobile websites m.facebook.com and touch.facebook.com (which is optimized for smartphones like the iPhone) have been redesigned. And that the site routinely handles text messages from 80 operators across 32 countries worldwide. Via TechCrunch.